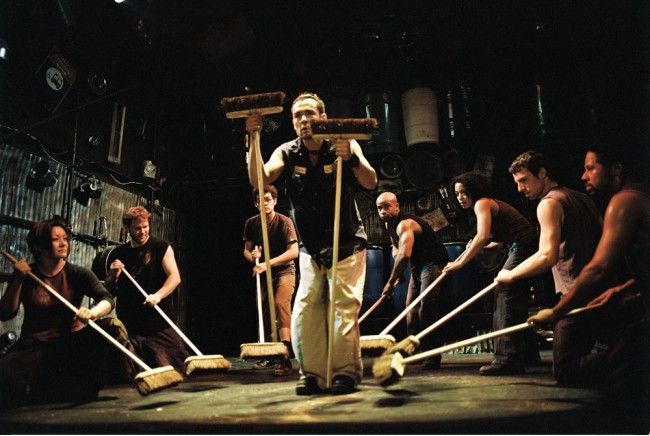 Picture this…
You're walking down a busy street. City clamor rushes into and out of your ears like a garbage can symphony (or perhaps Stomp – minus the rhythm).
You come to an intersection. It's bustling. And slightly noisy.
Taxis honk. A police car rushes past, sirens blaring, only to disappear around a corner of cold concrete. A distant memory.
The coast is clear… you step out into the street, making the move to cross. As your foot lands on the asphalt you look across to the opposite sidewalk.
Your dog, Fido, is sitting there… with a smile on his face – waiting for you.
You take another step.
Suddenly, *whoosh* everything is in slow motion.
Your brain is thinking at the same lightning speed – heck, even the city noise seems to continue at an equally quick pace – but your body, and every other body in motion – cars, trucks, bicycles, birds – all seem to be moving…
Slowly.
You turn to your right. A mammoth 18-wheeler is approaching, headed right toward you.
Deep down inside you know it won't hit you – everything's moving slowly, even the truck – but you can't help but let an inkling of fear creep in as you watch it approach.
This is how I feel right now.
Let's just put it this way: I feel like I'm going to be hit by a truck, but I know I'm not.
But I still feel like I will be. We can't forget that part.
And that's because I'm being an idiot.
Why The World Is Full Of Idiots
I'm running around like a crazy person nowadays… being thrown into new, challenging, and sometimes uncomfortable, situations and I feel as though my creative energy is completely…
Gone.
And that disturbs me.
Yet, here I am writing.
I already feel better.
Sometimes we are just made to do something and when we don't do it – we feel the lack.
And other times, we just don't want to do something. And that eats away at us inside.
Everyday we avoid the inevitable makes us more and more miserable. So here's the lesson:
Just do it already.
Stop being an idiot and do what needs to be done.
I'm telling this to myself right now too.
Here's the dealio… I need to lose more body fat to increase my success as a model (9-10% is fat by NYC modeling standards). I make money – but nowhere near the amount guys with slightly better bodies than me do. Capiche?
And that's kind of a big deal.
I live in a 45 square foot room. But I've got dreams to one day live in an apartment where I won't have to listen to my neighbor breathe through the wall.
Here's the problem, and why I'm an idiot: To this point, I haven't gone 100% into the profession.
It's been a job; it's paying the rent; but it's not my life. And the only way to truly be successful at something like this – to achieve my goals and dreams – is to make it my life.
To be consumed by my desire to succeed.
And stop pushing it away.
Everything's sitting right in front of me, I've done all the groundwork: I have an amazing agent, live in the fashion capital of the world, and have "the look" – yet, I've not allowed myself to fully commit.
And this is so true for all of us, no matter what we do or what our hopes and dreams are. There is no way you are going to be anything more than mediocre unless you go all-in.
You either take it seriously, or you get mediocre results.
That's all there is to it.
Really.
The 6 Types Of Idiots In The World
The idiot who…
1. Knows They'll Succeed But Lets Anxiety Take Hold
You know you're doing everything right yet you still experience immense anxiety – sometimes even to the point of paralysis. I know I fall into this category sometimes. But why does this happen?
We tend to do this because we are impatient. Even when you're doing all the right things, success takes time… and lots of hard work. Sometimes we tend to get overwhelmed with the amount of work left to be done – even though we're experiencing solid results – and we let that anxiety creep in.
2. Isn't Patient
This is slightly different than the first one, even though patience plays a role in both. This type of idiot just has zero patience, wants everything yesterday, and gets super frustrated when they don't get their way immediately. They jump from pursuit to pursuit, never sticking around long enough to actually experience tangible results, all because they don't understand that good work takes time.
Success takes time.
3. Pushes Away Opportunities For Success
This idiot works like crazy, and is given the opportunity to be successful frequently, but either self-sabotages or pushing that success away toward some "more deserving." The root of the problem is this: they do not believe themselves deserving of success – they believe they don't deserve happiness – so they never let it in, even when its banging the freakin' door down.
4. Doesn't Follow Their Dreams
This idiot is everywhere.
They've settled. They do not EVER embrace discomfort and they'd much rather just resign themselves to mediocrity than push boundaries and pursue something that would truly make them happy.
5. Is Too Scared To Try
This person has big dreams, big goals in life… but they hide. They never take that leap of faith. They never step out from safety and go for it. And the result: they spend their entire lives "wishing it was."
And right before they die – they experience deep regret.
6. Has A "Get" Mentality
This idiot is a little bit more nuanced, but very common. They feel entitled. They're sitting around waiting for someone to give them something. Waiting for their time to shine – they feel as though they'll someday get what they deserve.
I was walking down the street recently and saw a man picking plastic bottles out of a trash pile. He was singing. And his song struck me.
"I'm going keep on hustling, keep on hustling, and one day I'll get my time to shine, time to shine."
This is a dangerous lyric because at first listen it could even be a rally cry, an innocent underdog hymn. However, when you think about it, this guy was just waiting to "get" something – and this brought him to the point of actually having to dig through garbage to get bottles to turn in to the recycling center for $.10 a piece.  He is dead broke.
So which idiot are you?
How To Be Smart In A World Full Of Idiots
To this point I've been calling out all the idiots – and this is definitely a little harsher than my usual tone. But it needs to be done. And I'm just as guilty as everyone else of being an idiot sometimes.
The first step to addressing a problem is admitting there is one to begin with.
So how do we go about fixing this idiot problem – and wise up?
The first step is patience. Like I said in the post On Happiness: How To Be Relentlessly Awesome…
Respect the road you have chosen for yourself. The road to achieving a worthwhile goal is treacherous. Most people do not understand this. They expect Easy Street and instead find the Road to Mordor.
The next step is to start "taking" and stop feeling entitled to success. Nobody's going to hand you anything, so please stop waiting for a treasure chest to fall out of the sky, or those ripped abs to magically appear one morning when you look in the mirror. Start taking.
Take the right steps to success, every day. Take what you deserve. If you've worked your butt off and are presented with a great opportunity… take it.
Follow your goals and dreams as if they're the only thing in the world that matters. Because they actually kinda are. Live life in a way you won't regret. And get uncomfortable - push your boundaries every single day.
Can you identify with any of these 6 conditions? If so, what steps do you think you need to take to breakthrough to success?